Nestled in the Nikaus – Punakaiki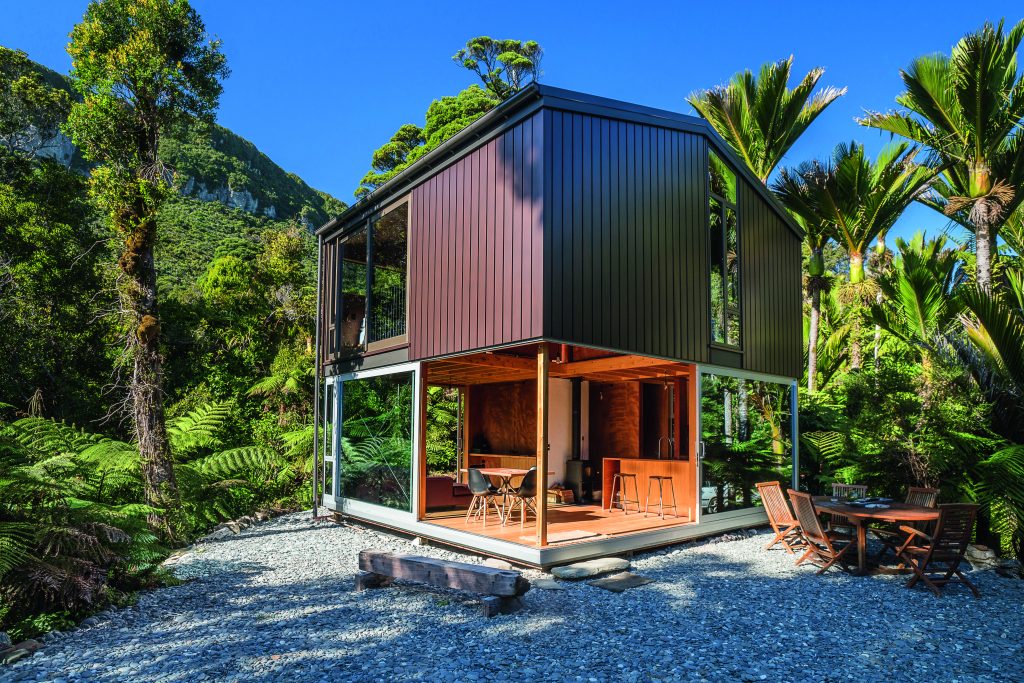 Nestled in Punakaiki among nikau palms with the soaring dolomite cliffs as a backdrop, this 80 square metre home showcases the best of small, functional design using materials which compliment the environment.
Upoko Architects designed the bach to capture the spirit of West Coast living or as they describe it "an adventure in a small box".
The house is built on two levels with the ground story exterior clad in vertical cedar shiplap while Flashclad Dualboard cladding has been used to stunning effect of the first story. The Architectural Series of joinery features sliding doors which meet at corner junctions, enabling half of the ground floor to be opened up.
Aluminium tracks installed to the exterior means that maximum opening is gained.
The dining, living, kitchen, laundry and bathroom are all located on the ground floor while the mezzanine level has two bedrooms with open views to the living areas below. The nikau forest canopy is framed to spectacular effect by a large sliding door to the main bedroom.
The owners have chosen natural materials where possible. The flooring and window reveals are Victorian Ash, walls are clad in Gabbon Ply with saligna timber capping. The owner personally plastered the fire feature wall in Rockcote Marrakesh polished lime plaster to great effect.
In this stylish little house the owners have achieved their dream of creating a relaxing, restful retreat in a very special location.